120-Year-Old, Tamil Nadu Homegrown Brand Royal Enfield Makes Its Mark In The Global Markets
Royal Enfield, the oldest motorcycle brand in continuous production since 1901, having its manufa cturing base in Tamil Nadu, manufactures and sells world-class motorcycles in the range of 350cc to 650 cc in India and abro ad. The manufacturing facilities located in Thiruvottiyur, Oragadam and Vallam Vadagal near Chennai, produce a distinctly unique range of motorcycles such as the Classic 350, Meteor 350, Himalayan, Scram 411, Interceptor and Continental GT 650 twin, and the iconic Bullet 350. Between the three facilities, Royal Enfield manufactures over 3000 motorcycles per day from its factories and has an installed production capacity of 1.2 million units a year.
Over the last decade, Royal Enfield has become an aspirational motorcycle brand for many young sters and riders in India- not only for its motorcycles but for its wide range of apparel as well. Today, with its strong global expan sion the brand has become the preferred choice for many international customers as well. Royal Enfield moto rc ycles are now sold in over 60 countries across the world and are continuing to build a strong motorcycling comm unity in other markets as well like in India.  In the last 2 months of April and May 2022 alone, Royal Enfield has exported around 20,000 motorcycles to countries like America, Japan, Europe and Brazil and has made India proud.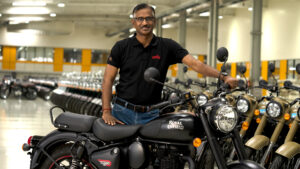 Speaking about this development, Mr. B. Govindarajan, CEO of Royal Enfield said "Royal Enfield completed 120 years in Dece mb er 2021. We are proud that our popular models like Bullet, Classic, Himalayan, Meteor and Inter ceptor are perfo rming well not only in India but also globally. This was possi ble because of the dedica tion and commitment of our emplo yees at Royal Enfield and the affinity and loyalty of our custo mers. There is tremendous head room for growth in global markets for Royal Enfield and we be lieve we are at an inflection point in international business. With robust plans of a strong line-up of global motorcycles, sharp focus on growing the retail network, Royal Enfield is confident about replicating the India success story across the world."
He further added- "We have recorded between 80% and 100% growth (in overseas sales) y-o-y over the past few quarters, and a more than 40% increase in volumes as compared to 2019-20. Today, we are a global Indian brand with our motorcycles being designed across the UK and in India, manufactured in India and ridden around the world."
FY22 marked the addition of two new, exciting motorcycles in Royal Enfield's portfolio – the all-new Royal Enfi eld Classic 350, one of the most awaited motorcycles from Royal Enfield this year and Scram 411, the brand's first ADV Crossover.
The all-new Classic 350 is a timeless rendition of Royal Enfield's most popular motorcycle, reimagi ned to meet modern aspirations. Powered by the modern, globally appreciated J-series engine, the new Classic offers an ext remely refined and smooth ride experience. Since its debut in India in Sept ember 2021, the new Classic has been launched across APAC, Europe, and Americas and received excellent response from experts and consumers alike and has won numerous awards and accolades.