30 GLORIOUS YEARS OF WOMEN CADETS INDUCTION INTO THE OFFICERS TRAINING ACADEMY , CHENNAI
Chennai 21 September 2022
30 GLORIOUS YEARS OF WOMEN CADETS INDUCTION INTO THE OFFICERS TRAINING ACADEMY , CHENNAI
1. Officers Training Academy, Chennai, the premier pre-commission training establishment of the Indian Army has been training Women Officers for the Indian Army since 21 Sep 92, who have since carved a niche for thems elves in various arms and services of the Indian Army. The Pearl Jubilee of the induction of women cadets into OTA Chennai is being celebrated on 21 Sep 22 to commemorate this occasion.
2. The first batch of women cadets, as part of Women Special Entry scheme –01 (WSES – 01) course was induct ed into OTA Chennai on 21 Sep 1992 and passed out as women officers in 06 Mar 1993. Since then OTA, Chennai has trained 2,835 Women Officers of the Indian Army. These women officers, who have trained shoulder to sho ulder with their male counterparts in the Academy, have excelled in all fields of military activity in various arms & services and continue to be an asset for the organisation.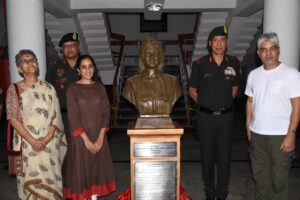 3. In order to commemorate this day, the women cadet accommodation at OTA Chennai was named as 'Capt Lak shmi Block' in memory of Capt Lakshmi Sehgal. Hailing from Chennai, Capt Lakshmi, was a member of the In dian National Army (INA) during World War (WW)-II, and raised the all women 'Rani Jhansi Regiment' ren dering ye oman service in the freedom struggle. The inauguration of the Capt Lakshmi block was done by Mr Shaad Ali Seh gal, grandson of Capt Lakshmi; a famous Bollywood director. On this occasion Lt Gen Sanjeev Chauhan, AVSM, YSM, Commandant OTA, Chennai unveiled a life size bust of Capt Lakshmi in the central foyer of the block, whi ch is to inspire women cadet of the academy for all times to come.
******
PS/09/2022