AGNIVEER ARMY RECRUITMENT RALLY AT NAGERCOIL FROM 21 AUG 2022 FOR 16 DISTRICTS
AGNIVEER ARMY RECRUITMENT RALLY AT NAGERCOIL FROM 21 AUG 2022 FOR 16 DISTRICTS OF TAMIL NADU AND KARAIKAL (UT OF PUDUCHERRY)
ONLINE REGISTRATION IS OPEN FROM 01 JUL TO 30 JUL 2022
Agniveer Army Recruitment Rally is scheduled to be held at Arignar Anna Sports Stadium, Nagercoil, Kanyaku mari from 21 Aug to 01 Sep 2022 for volunteer male candidates from the following districts of Tamil Nadu:
Tiruchirappalli
Karur
Perambalur
Thanjavur
Pudukkottai
Thiruvarur
Nagapattinam
Mayiladuthurai
Sivaganga
Ramanathapuram
Virudhunagar
Tirunelveli
Thoothukudi
Kanyakumari
Ariyalur
Tenkasi
Karaikal (UT of Puducherry)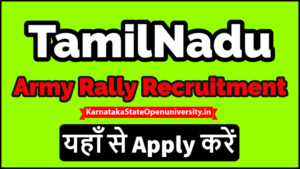 The rally is being held for enrolment of Agniveer General Duty, Ag niveer Technical, Agniveer Tradesman 10th pa ss, Agniveer Trad esman 8th pass and Agniveer Clerk/ Store Keeper Technical cate gories/ entries in the Army by Army Recruiting office,Tiruc hirap palli under the aegis of HQ Recruiting Zone, Chennai. The details of age, educa tion qualification and other criteria for enrolment in the specified categories in the Army are given in the Rally N otific ation published by Army Recruiting Office, Tiruchirappalli on 30June 2022.    
Online registration is open from 01Jul 2022 to 30Jul 2022. Online registration of candidates on the website jo inindianarmy.nic.in is mandatory and admit cards will be issued online after 10Aug 2022.
*****
PS/CS/07/22