CLASSIC REIMAGINED: ROYAL ENFIELD SHOWCASES FOUR UNIQUE CUSTOM BUILDS ON THE  CLASSIC 350
 This marks a new chapter under the Royal Enfield Custom World initiative as the brand collaborates with some of India's leading custom-builders for this project 
 New Delhi: 24 June 2022:, Showcasing the effortless versatility and iconic timeless design of Royal Enfield moto rcycles, the Royal Enfield Custom World programme as always endeavoured to nurture self-expression and cre ativity among riding enthusiasts. With motorcycles that have been canvases of customization, the programme has provided custom-builders an opportunity to showcase their concepts and inspirations in the field of moto rc ycle personalisation and customisation. Over the last few years, the brand has collaborated with many leading custom-builders across the world and has exhibited some of the best and awe-inspiring custom builds on its motorcycles.
As part of this Custom World initiative, Royal Enfield unveiled four distinctly unique custom builds on its new Classic 350 simultaneously across four locations – Delhi, Mumbai, Pune and Bangalore, today. Built by some of the most renowned and leading custom-builders in India – Rajputana Custom Motorcycles, Old Delhi Moto rcyc les Co., Neev Motorcycles and MS Customs. These motorcycles have been meticulously crafted and re-built to showcase the timeless elegance of the Classic interpreted through the eyes of these motorcycle custom artists.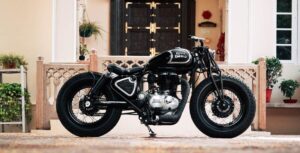 'Classic REimagined' – Gaur by Rajputana Custom Motorcycles
'Gaur' by Rajputana Custom Motorcycles, reflects the history of th e "Timeless Classic" motorcycles by Royal Enfield. Each custom par t on this machine is hand-built and takes inspiration from Royal En field motorcycles of different eras. From the old school girder susp ension to front & rear drum brakes, leather seat to velocity stack and footrests to the all new fuel tank, rear suspension, tool boxes & chassis, the motorcycle has been detailed and blended in a unique way to appeal to the ever-growing com mun ity of Royal Enfield enthusiasts.
Vijay Singh Ajairajpura, who hails from Jaipur, customized his first ever motorcycle in his small garage almost a decade ago. From then till now, the Rajputana Customs' workshop has developed into a hyper-creative space with everything from ideation to execution taking place under one roof.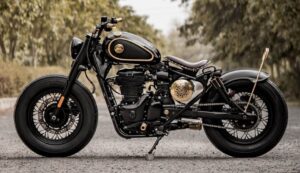 'Classic REimagined' – Divine by Neev Motorcycles
'Divine' by Neev Motorcycles is painted in a beautiful custom-built bobber adorns a matte black colour-scheme which is further acce ntuated by the gold pin-striping and gold leaf work on the tank. It sports a lowered stance with a custom swing arm, custom tank and mud guards, an intricately detailed hand-stitched leather seat, ma c ined and engraved brass embellishments that roll on the thick  5"x 16" balloon tires completing the overall style. Founded by Navneet Suri, a motorcycle fanatic and autom oti ve engineer, Neev Motorcycles is a motorcycle custom shop based out of New Delhi which has been creating be spoke hand-built custom motorcycles since 2015.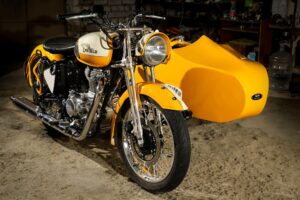 'Classic REimagined' – Dilli by Old Delhi Motorcycles Co.
 'Dilli' by Old Delhi Motorcycles, flaunts a metaphoric build that salutes / is an ode to the ever-evolving spirit of Delhi and the soul of Royal Enfield – a celebration of the old and sometimes eccentric vibe that the city exudes without losing its ability to embrace all. The motorcycle is about the tough love of the Ustads and the grudging reverence of the Shagirds. It is a reflection of narrow bylanes of struggle that melt seamlessly into wide tree lined avenues of success and about the strength of the human hand and its ability to bend, cast and fashion all that the mind envisages. This build is a humble expression of gratitude towards all those who have inspired Old Delhi Motorcycles Co.
Founded in 2011, Old Delhi Motorcycles is an ode to the people who have given their lives to restoring, building, painting & putting a soul into motorcycles. In turn they have become synonymous as one of India's best resto builders and have crafted many custom motorcycles for Indian and global clients.
'Classic REimagined' – A custom-built motorcycle by MS Customs
The motorcycle by MS Customs, reflects the theme of 'Urban Ro adster'. The beautiful yet functional customized new Classic 350 comes with a '60s inspired headlight dome, custom tank and swing arm, wheels and tyres. To give the motorcycle a more personalized look, the twin seats have been handcrafted.
MS customs was founded by Mr. Lalmalsawma (MSa) in 2008, an automobile engineer and an expert in building motorcycles in all genres.  Located in Aizwal, Mizoram, MS Customs is a one-man-show and has managed to bu ild multiple motorcycles in the last two decades despite the scarcity of raw materials, specialized tools, compon ents and accessories due to hurdles posed by the state's isolation from mainland India.
Royal Enfield Custom World
 Royal Enfield Custom World serves as a platform to inspire and foster creativity amongst motorcyclists. With the idea of highlighting motorcycles as a canvas for personal expression and creativity, this platform has brought together notable motorcycle artists and craftsmen from across the world to express their individuality and un iq ueness in the language of design. Royal Enfield motorcycles, with their simple and uncomplicated design, are the perfect base for exploring the bounds of what a motorcycle can be. Over the last six years, Royal Enfield has coll aborated with some of the most famous custom builders in India, Southeast Asia, Australia, Europe, and the Am ericas, building over 80 custom motorcycles to date, with many more to come.
#RoyalEnfieldCustomWorld #RoyalEnfieldCustoms #ClassicREimagined
 About Royal Enfield
 The oldest motorcycle brand in continuous production, Royal Enfield has created beautifully crafted mot orcyc les since 1901. From its British roots, a manufacturing plant was established in Madras in 1955, a foothold from which Royal Enfield spearheaded the growth of India's mid-sized two-wheeler segment. Royal Enfields are engag ing, uncomplicated, accessible, and fun to ride; a vehicle for exploration and self-expression. It's an approach the brand calls Pure Motorcycling.
Royal Enfield's premium line-up includes the all-new Meteor 350 cruiser, Interceptor 650 and Continental GT 650 twins, the Himalayan adventure tourer, Scram 411 and the iconic Bullet 350 and Classic 350 singles. Riders and a passionate community are fostered with a rich profusion of events at a local, regional and international level. Most notable are Rider Mania, an annual gathering of thousands of Royal Enfield enthusiasts in Goa, and Himalayan Odyssey, a yearly pilgrimage over some of the toughest terrain and highest mountain passes.
A division of Eicher Motors Limited, Royal Enfield operates through 1033 large format dealerships and 1038 stu dio stores in all major cities and towns in India and exports to over 60 countries around the globe. The company's two state-of-the-art production facilities are located at Oragadam and Vallam Vadagal, near Chennai. Royal En field recently invested in two world-class technical centres, in Bruntingthorpe, UK, and Chennai, India, and in 2020 opened its first assembly unit outside India, in Buenos Aires, Argentina. With more than 17% growth year-on-year for the last 5 years and sales in international markets up 96% in 2019-20, Royal Enfield is the leader in the global mid-size motorcycle market.