Current relevance of Adani Enterprises Limited for a Stock Investor
India is a growth market. Domestic consumption and infrastructure growth have so far been the two most soug ht after themes. Now there's one more addition to the list—climate changes.
But when it comes to capturing the boom in new areas, investors have limited options, at least in the listed spa ce. For instance, it won't be an exaggeration to say JCB was the poster boy of India's infra structure growth but it's not a listed entity. 
Similarly, individual investors don't have access to a number of start-ups operating in the climate-change eco system today which might become tomorrow's leading sci-tech companies.
Ventura's research team is always on the lookout for unique opportunities in upcoming areas. After initiating coverage on a few Adani group companies in December 2021, Ventura placed all the group companies on its radar.
The recent developments at Adani Enterprises Limited (AEL) have been awe-inspiring which compelled Ventura's research arm to dig deeper into this goldmine.
Adani Enterprises alone can give investors an instant exposure to investment themes such as Green Hydrogen, Airports, Roads, Defence, Data Centers and Digital Labs to name a few.
Roadmap of AEL's existing and upcoming business verticals appears promising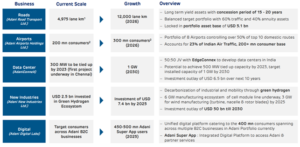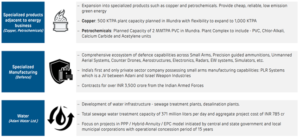 AEL is in a sweet-spot and it is unmissable at this juncture for someone looking to play India's long term story of secular growth.
Snapshot of financials (Consolidated)

Note: Ventura has consolidated75% of  Adani New Industries Limited's numbers and 50% of AdaniConnex's numbers for all the estimates
(Figures: Rs in crore)
The snapshot might raise some eyebrows. Yes, AEL trades at a P/E multiple of 149 on FY23 estimated earnings.  The company has a Net-Debt to EBITDA of ~10X and has massive capex commitments for the next 8-10 years. But such companies can't be valued on traditional metrics.
Ventura's reading between the lines brings out a story that's completely missed-out even by seasoned investors. Adani Enterprises will demonstrate India's preparedness to become a manufacturing hub in sunrise industries.  AEL is building scale that would instill confidence in global corporations/governments looking to diversify their supply-chains away from China. Total's association with AEL is a testimony.
Most of its new businesses are still in an investment phase or at a nascent stage of profitability and thus financials don't reflect the true potential of each business vertical AEL caters to.
Take an example of green hydrogen. 
According to Ventura Research's estimates, India alone will require 11.2 million tonnes of green hydrogen by 2030 which translates into an opportunity of over Rs ~1.75 lakh crore. Adani Enterprises is targeting 2.5 million tonnes of capacity which can roughly meet ~22% of India's green H2 demand. However, the company doesn't want to remain just a commodity player. It will utilize 60% production for captive purposes—to manufacture value added products.
It will have backward integration as well. AEL will use its captive renewable energy in hydrogen manufacturing.

Likewise, the report has made pertinent observations on all business segments of AEL.
Want more reasons to be bullish?
Proven execution record of large projects

Strategic collaborations for access to the best-in-class technology

Low-cost funding

Proven record of value-unlocking at the right time