Global rural financial solutions provider VisionFund now in India
Chennai, 19 September 2022. Global microfinance provider VisionFund has now launched operations in India as VisionFund India Private Limited (VisionFund India). The organisation received its license as a Non-Banking Fin ance Company Microfinance Institution (NBFC-MFI) from the Reserve Bank of India (RBI) in June 2022.
VisionFund has been improving the lives of children in the developing world for over 19 years, through the provi sion of small loans and other financial services to low-income families. In FY2021, VisionFund International's net work of microfinance institutions provided loans to one million clients, with nearly three-quarters of these going to women and over a third to clients actively involved in farming. Located across 28 countries in Africa, Asia, Eas tern Europe and Latin America, its MFI network positively impacted 4.3 million children last year.
In India, VisionFund will be working closely with NGOs engaged in training and livelihoods projects as part of a ho listic and sustainable approach to rural economic development.
VisionFund India began lending operations in September 2022 with the opening of its head office in Chennai and five branches in Tamil Nadu. The MFI will provide financial products that cater to the livelihood needs of low-inc ome communities as well as other financial needs related to education, water, sanitation and hygiene, insurance (health/livestock/crops) and more.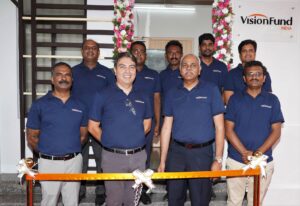 VisionFund's Asia Regional Head, Launce Moses, said, "VisionFund India gives us the platform to positively trans form the lives of vulnerable children and families across India. Our focus will be on empowering women, especia lly families with children and we are excited about the many opportunities our financial solutions will create for them."
VisionFund India CEO, Lal Paul added that as traditional rural lending models are proving to be expensive, the M FI will be adopting a new core banking system that allows for a fully digitized and faster loan processing system. "Our senior leadership team has significant experience in the sector, providing a critical base of stability and ex pertise for rural lending operations."
VisionFund India intends to extend its branch network to create greater access to much-needed financial servi ces, targeting women clients since they are one of the most vulnerable populations and their economic empowe rment has the potential to develop sustainable communities and healthy families.
About VisionFund
VisionFund has been improving the lives of children in the developing world for over 19 years. By offering small loans and other financial services, clients develop successful businesses, enabling their children to grow up heal thy and educated. In FY 2021, VisionFund International's network of microfinance institutions located across 28 countries in Africa, Asia, Eastern Europe, and Latin America, provided loans to one million clients, with 69% of th ese going to women, and creating brighter futures for 4.3 million children. Over 64% of VisionFund's clients resi   de in rural settings. For more information, go to visionfundindia.org