Indian Fans Rejoice…. Thor is back, this time a day earlier in India!!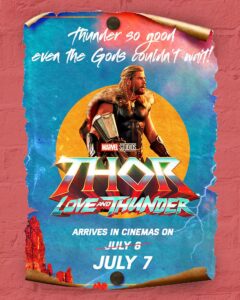 Marvel Studios' Big Ticket Cosmic Adventure 'Thor: Love and Thunder' to release in India on 7th July, 2022! a day before US release!
Audiences will see their favorite Avenger THOR back onscreen after 3 years post Avengers Endgame.
Thor: Love and Thunder will see the blockbuster duo Chris Hemsworth and Taika Waititi reuniting after five years post the superb success of Thor Ragnarok and such is the fervent excitement & unprecedented demand here, that the big ticket entertainer will witness an earlier theatrical release, one day before the US market.