Buds & Berries launches an extensive range of Hair Masks
 ~ Renowned for its garden inspired beauty, Buds & Berries through this launch aims to bring a wholesome range of products for hair care ~
National, 03 August 2022: Further strengthening its refreshing proposition of garden inspired beauty, Buds & Be rries – the digital-first personal care brand from the house of CavinKare today announced the launch of its hair mask portfolio. The range comprises three exotic variants of hair masks with handpicked ingredients such as Ri ce Water, Pistachio and Apple Cider Vinegar. With a promise of 120 hours of deep hair conditioning, the newly launched hair masks are set to offer nourishment for the hair from scalp to tip.
Commenting on the launch, Ms. Amudhavalli Ranganathan, Director, E-commerce & Special Initiatives, CavinK are said, "With an aim to provide a wholesome hair care experience to the consumers, we are now foraying into the hair mask segment. Consumers are now actively looking for holistic care or routine based hair care at home. This translates to them purchasing different products to tackle specific hair care challenges. Buds & Berries' hair care portfolio has a robust mix of products catering to hair wash care. We wanted to complete the offering by also launching hair masks for the post hair wash care. We are confident that the products will become an instant favorite among consumers."
Buds & Berries, now focuses on the hair mask segment, as there is a growing tendency amongst consumers to co mplete their multi-step haircare rituals post shampooing. The benefits of hair masks are in accordance with tho se of the specific shampoos. The natural rice water hair mask offers nourishment to the hair, making it strong, vol uminous and healthy. The pistachio variant revitalizes coloured and damaged hair and preserves hair color. This variant also keeps the hair strands soft, smooth and lively. Apple Cider Vinegar improves the hair luster, tackles frizz and dryness due to humidity and improves moisturization to reduce split-end and hair breakage.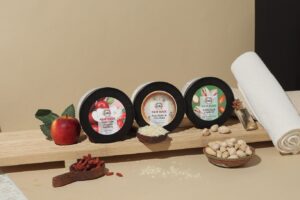 Buds & Berries, known for its fresh, hand-picked Garden inspired ingredients, brings into customers a fine selec tion of personal care product categories. Buds & Berries, a best seller brand for many Amazon categories, since its inception, have always aligned with the brand preposition of bringing in unique and fresh garden-inspired ing redients like Bulgarian rose , Tangerine orange, Kiwi, Macadamia and Shea Butter across different offerings wh ich are not only efficacious but also very extremely relaxing and indulging. The brand-new hair masks will be ava ilable for 200 ml at Rs. 600 across leading ecommerce retailers like Amazon , Flipkart & Myntraa and the pro ducts can also be purchased from Buds & Berries Website.
Buds & Berries Website: https://www.budsandberries.in/
Instagram: https://www.instagram.com/budsandberries.in/
About CavinKare :
CavinKare is a diversified FMCG major with business interest in personal care, professional care, dairy, snacks, foods, beverages & salons. The brand portfolio consists of Shampoos (CHIK, Meera, Karthika and Nyle), Hair Wa sh Powders (Meera & Karthika), Coconut Oil (Meera), Fairness creams (Fairever), Deodorant; Talc (Spinz), Pic kles; Snacks (Ruchi, Chinni's; Garden), Hair Colours (Indica), Retail Salon Products (Raaga Professional), Beve rages (Maa), Dairy (Cavin's), and Beauty Salons (Green Trends & Limelite). Under some of its key personal care brands, CavinKare also offers hand sanitizers and liquid soaps. Most of the brands are clear winners in their res pective product categories. A dedicated R & D center equipped with the latest equipment and technologies co nstantly supports the divisions in their endeavor. CavinKare has achieved significant milestones and a comp eti tive edge with sound understanding of mass marketing dynamics and has established a firm foothold in the nat ional market. CavinKare's success is based on it being firmly grounded to its corporate mission 'We shall grow significantly better than the industry by fostering innovation and building preferred brands, through passionate and delighted employees.