Shri Nitin Gadkari presides over the Grand Opening of Neeyamo's new All-women Global Delivery Center in Nagpur
 Mumbai/Nagpur, 1 July, 2022 – Neeyamo, a leading provider of Global Payroll and EOR services, today announc ed that Shri Nitin Gadkari, the Minister of Road Transport and Highways, in the presence of Shri Sameer Datta tra ya Meghe, Member of Maharashtra Legislative Assembly, Hingna Constituency presided over the Grand Op ening of the company's All-Women Global Delivery Center in Nagpur.
Formed in 2009, Neeyamo presently has over 3,000 employees worldwide. With an aim to create more job op portunities, the company has established its business centers in several Tier II & III cities and further intends to set up similar centers across 20 cities in India. Neeyamo has chosen Nagpur to inaugurate its first-ever all-women center.
As a part of its initiatives under the Naari Shakthi framework (which was launched in September 2021 by Guar dian Minister Hon'ble Adv. Yashomati Thakur, Maharashtra Government's Women and Child Development), the Nagpur center will further empower and create a platform for women to excel in Neeyamo by creating high-end jobs for them. This center currently employs 85+ women and plans to grow by 200 before the close of 2023.
This will include training sessions with leaders and experts from the industry to uplift, educate and help female employees of Neeyamo to enhance their skills. It will also be used to create tech-driven jobs with a team of tec hnology gurus, payroll specialists, implementation experts, and customer support executives to support global clients.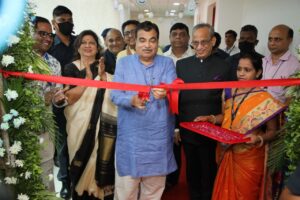 Rangarajan Seshadri, CEO, Neeyamo, said, "Women make up only 28% of the workforce in science, technology, engineering and mat h (STEM) streams, and we at Neeyamo want to bring a change in this. We always believe in taking the next step in building a work space where all our employees feel empowered. Our Nagpur all-women center is a testament to this belief. This initiative under Neeyamo's Naari Shakthi framework will help create a platform for women in Tier II cities such as Nagpur and equip them with skill sets that will help create a brighter future".
 About Neeyamo
Neeyamo is a leading technology-enabled global payroll and EOR solutions provider for multinational and micr o-multinational corporations worldwide. With an extensive team of professionals serving clients across 190+ countries, Neeyamo leverages its unique service-based model and functionality-rich, next-generation portfolio of HR & payroll products to help organizations enable agile and scalable business. To know more, visit www.neeyamo.com