This Diwali wish your loved ones extra special with a bite of sweetness By Sheraton Grand Chennai Resort & Spa, Mahabalipuram exotic hampers
Surprise your loved ones and Business associates with Sheraton Grand Chennai Resort & Spa handcrafted Diwali hampers that will leave them sparkles this Diwali. Our chefs have curated the festive-themed box with delightful treats that will immerse you into rich Indian flavors in every bite.
You can choose from a variety of classic Indian sweet boxes with assortments of Mohanthal, Mathura Peda, Be san Ladoo, Chandrakala, Motichoor Ladoo, Karachi Halwa Barfi, Ghee Makhana, Churma Ladoo, Milk Mysore Pak.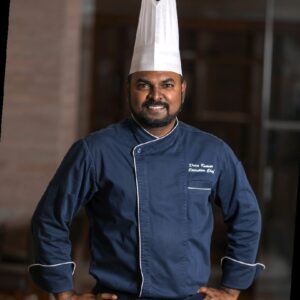 "At Sheraton Grand Chennai Resort & Spa, we aim on bringing you specially curated traditional sweets for you and your family to create unforgettable memories, Since Diwali is known for its Authenticity and tradition, cel ebrate joy of lights and gifting you and your loved ones the best authentic experience with our Mithai box filled with variety of milk and ghee sweets to choose from." Said Deva Kumar Executive Chef– Sheraton Grand Chennai Resort & Spa, Mahabalipuram.
The Celebration Assortment: 32-piece box set weighing between 1.2kg-1.4 kg. INR 1499 + taxes
The Festive Assortment: 16-piece set weighing between 500gms-600gms. INR 799 + taxes
The Delight Assortment: 6-piece weighing between 250gms-300gms. INR 499 + taxes
Bring home the festive cheer or share the warmth of gifting with your loved ones as you make Sheraton a part of your festive celebrations this season.
For enquiries and pre-orders kindly contact
Email: [email protected]
Phone: +91 9384832953
About Sheraton Grand Chennai Resort and Spa, Mahabalipuram
Set on the scenic East Coast Road, facing the azure waters of the Bay of Bengal, is a beautiful beach haven resort, Sheraton Grand Chennai Resort & Spa. The design and decor of the 129-room property takes inspiration from fo ur S's, namely, Sun, Sand, Sea, and South India. Nestled in the heart of 10 acres of beautiful land with lush greens, well-manicured lawns perfect for a picturesque beach wedding, away from the hustle-bustle of the city. As part of Marriott International, we offer upscale accommodation, world-class services, and exquisite F&B that will ta ke your leisure or business stay to the next level.
Discover modern style and welcoming service at Sheraton Grand Chennai Resort & Spa. Ideally located in ECR and overlooking the Bay of Bengal, our hotel is just a short distance from historic monuments, ecological adve ntures and museums – an ideal destination for escaping the hustle and bustle of everyday life. Settle into one of our luxury hotel and suites, which feature free Wi-Fi and a private balcony or patio with outstanding views. Res ort offerings include a sparkling infinity pool and a relaxing on-site spa; you can also take a walk on the pictures que beach. Sample world-class local and international cuisine at our hotel restaurants, or order 24-hour room se rvice. Our elegant venues and expert planning services make us a premier choice for weddings on the beach, so cial gatherings and business retreats in Chennai, India.
One of the top places to try 24-hour dining is 'The Reef' in Chennai city. The restaurant is an apt place to take your family or business client to for a formal meal. The Reef adapts its name from the coastal topography of Ch ennai city. By keeping a menu that is pleasant to all, the restaurant becomes an amazing dining option for all ki nds of diners. The crowd-pleasing mix of Indian and Continental dishes seen of Reef's menu gratifies guests and locals alike. The Reef opens its menu with a lavish breakfast section many regulars crave for. You may either be a pancake or a medu vada person, the restaurant has something for everyone. Every day The Reef puts out lavish buffets to interest their patrons. The Reef, is an excellent location to enjoy a lavish multi-cuisine meal any time of the day. Its subtle elegance makes The Reef a great spot to hold a business meeting or to have a quiet lunch with family. One can easily call The Reef one of the loveliest all-day dining restaurants in Chennai.
A vibrant and lively seafood restaurant located by the beach which serves South Indian coastal cuisine, in a ru stic setting, feel the soft sand under your feet amidst tropical fauna clubbed with some enchanting music makes it a perfect location for socializing with friends and family. Overlooking the Bay of Bengal, C Salt offers you a dr amatic view which is a perfect location to socialize with friends & family or to have a romantic meal experience
Pintail Lounge – The bar at Sheraton Grand is a lively bar in Chennai with great collection of liquor brands. Guests can enjoy finger foods at the bar along with the drink.
Not to forget, Rejuvenate and induce a state of calm with our tailor made range of treatments at Shine Spa
Join us to experience a symphony of exceptional flavors and embark on a culinary journey to heaven with inno v ative dishes carefully prepared by our team of expert chefs. Indulge in bespoke luxury at a great location whilst soaking up the vibrant energy of the beaming ECR of Tamil Nadu and discovering iconic, local spots. From the Co romandel Coast to Mahabalipuram to Puducherry, Sheraton Grand Chennai Resort & Spa is the ideal getaway.