Apollo Hospitals Institute of Colorectal Surgery completes 500 Robotic Colorectal Surgeries
The centre excels in low rectal resection and reconstruction to avoid colostomy and improve quality of life after colorectal cancer surgery 
Dr. Venkatesh Munikrishnan and his team completed more than 500 surgeries Performed the world's first rectal cancer surgery with the new Hugo robotic surgery system at the Apollo Main Hospital
Chennai, July 12, 2022: Apollo Institute of Colorectal Surgery, India's Premier Dedicated Centre for Colorectal Cancer Management has successfully completed more than 500 robotic colorectal surgeries over six years. The Apollo Institute of Colorectal Surgery began offering cutting-edge minimally invasive robotic surgical techniq ue s and technology in the treatment of patients with colorectal diseases, especially colorectal cancer since 2016.
 The rate of colorectal cancer has been increasing among young adults in their 20s to 40s over the last two deca des. If colorectal cancer is identified in the early stages it can be completely cured and Robotic Colorectal Surge ry helps patients avoid colostomy and lead a normal life. Colorectal cancer is a common cancer globally but has a low reported incidence in India with GLOBOCAN 2018 ranking colon cancer 13th in terms of incidence and mor tality with 27,605 new cases and 19,548 deaths annually. Since 2018, 27,605 new cases have been registered ac ross India and the total number of patients living with the disease in India is estimated to be around 53,700. Co lorectal cancer is on the rise especially among young Asian males with unhealthy lifestyle patterns one of the key reasons for its occurrence.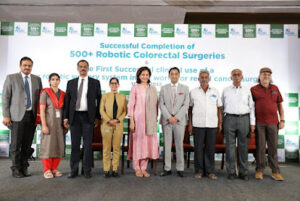 (From Left) Mr. Naveen, VP Marketing Apollo Hospitals Greams road, Ms. Kamala, Patient coordinator, Robotic Colorectal Team, Dr. Venkatachalam, DMS, Apollo Hospitals Greams Road, Dr. Sant y Sajan, COO, Apollo Hosp itals-Chennai Cluster, Ms. Preetha Red dy, Executive Vice Chairperson, Apollo Hospitals Group, Dr. Venk atesh Munikrishnan, Consultant Colorectal & Robotic Surgeon, Apollo Hospitals and the patients.
Ms. Preetha Reddy, Executive Vice Chairperson, Apollo Hospitals Group said, "At Apollo, we are bringing in cut ting edge medical technology, representing the next era of healthcare innovation to treat cancers. In 2016, we started a special is ed department for Colorectal Surgery and also simultaneously started Robotic Colorectal Surgery. This has led to precision surgery that causes minimal side-effects in patients. Over the last few years, there have been sever al advances in minimally invasive techniques such as Robotic Colorectal Surgery, which has led to significant ch ange in the management of colorectal diseases, particularly for rectal cancer surgery."
She added, "Being one of India's first dedicated centres for management of diseases of the colon, rectum and anus, the Institute offers Robotic & Laparoscopic Colorectal Surgery for Colorectal Cancer and cutting-edge treatments in Proctology and Pelvic Floor Diseases. The Robotic Colorectal Surgery Programme is the busiest in the country with over 530 robotic colorectal surgeries completed since its opening in 2016, of which 500+ have been performed by Dr. Venkatesh Munikrishnan and his team, who holds the distinction of being the highest volume robotic colorectal surgeon in the country.
More recently we have added the new Hugo robotic surgery system and performed the world's first rectal cancer surgery cases with this new system. "
Dr. Venkatesh Munikrishnan, Consultant Colorectal & Robotic Surgeon, Apollo Hospitals, Chennai, highlighted the importance of early diagnosis and its impact on the patients' recovery, he said, "A matter of concern has been the rise in patients coming with late-stage cancer to the hospital. There is an urgent need to educate the patients to prevent this 'stage migration' of the cancer from the early stages I and II when it is easy to treat, to stages III and IV, when recovery can be challenging. It is important for people to be aware and identify symptoms early so they can get appropriate care. There is an urgent need to create awareness as symptoms of colorectal cancer and benign conditions such as haemorrhoids are similar."
Dr. Venkatesh Munikrishnan, also added, "With Robotic Colorectal Surgery we are able to perform complex sur geries to remove the cancer and reconstruct the colon to rectal / anal connection, thus avoiding a permanent co lostomy for the patients. The use of robotic surgery also has several short term benefits such as less blood loss, quicker recovery, and better maintenance of normal bodily function."
The high volume of robotic colorectal surgeries allows cost efficiency with the cost of robotic colorectal surgery almost at par with standard keyhole surgery. This advancement has also benefitted patients who present with other colorectal diseases particularly in the treatment of rectal and pelvic disorders such as rectal cancer or re ctal prolapse.