Russian Education Fair 2022 Featuring Spot Admissions for MBBS and Engineering to be Held in Tamil Nadu
Senior teaching and admin staff from 12 Russian universities to meet Tamil Nadu students and provide details of higher education opportunities in Russia
Fair is scheduled to be held in Chennai, Coimbatore, Madurai and Trichy at different dates, between July 23-29, 2022
Chennai, 20 July 2022: Russian Centre of Science and Culture, in association with Study Abroad Educational Co nsultants, the authorised Indian Representative for Russian Universities, is organising Russian Education Fair 2022 in Chennai, Coimbatore, Madurai and Trichy at different dates, between July 23-29, 2022. The fair will be open from 10 am to 5 pm. Entry is FREE.
 With the participation of All Russian medical and technology universities, the 20th edition of the fair will be he ld in Chennai (Russian Centre of Science and Culture) between 23rd and 24th July, while at Coimbatore Hotel The Grand Regent) on 26th July, at Madurai (Hotel The Madurai Residency) on 28th July and at Trichy (Hotel Femina) on 29th July. For details about the programs and fair, students can call: 9282 221 221 / 99401 99883.
(L to R) Denis Kovizhnykh, Volgograd state medical university; Timur Akhmetov, Kazan state medical university; Ravi Chandran, Study abroad educational consultants; Lagutin Segey Alekseevich, Consul, Consulate General of the Russian Federation in Chennai; Sarapultseva Elena,
Inpe National Research Nuclear University; Ekaterina Shilova, Immanuel Kant Baltic federal University
Spot admissions will be given to candidates furnishing valid credentials supporting their eligibility to pursue Bachelors / Post-graduate degree programs for the academic year 2022 that begins this September.
Medicine is the most popular discipline preferred especially by Indian students. More than 70 Russian univers ities offer an M.D. degree, which is equivalent to M.B.B.S in India. These universities are recognized by the Nati onal Medical Commission of India and are listed in the Directory of Medical Schools of the World Health Org anisation. Every year around 3500-4000 Indians join Russian medical universities where there are about 20,000 Indian students at present.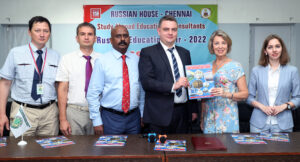 Indian students who have cleared National Eligibility cum Entra nce Test (NEET) and who have a minimum of 50% marks in the relevant core subjects/degrees (in the case of SC/ST and OBC students, the minimum marks is only 40%), can apply for under graduate and postgraduate programs in medicine in Russia. Tamil medium students can also apply. There are no pre-qualifying exams like CET, IELTS, etc. for admissions to universities in Russia. Depe nding upon the university, and the place of study, the course fee can range from US$ 3500 to US$ 6000 per year for courses in English medium. The Russian Government Scholarship Program offers foreign citizens the oppo rtunity to receive 100% free education. 100 grants are offered to Indian students every year. Bachelors, Mas ters, Specialist and Postgraduate Programmes are available under Scholarship in Russias leading universities. Eligible students can apply for the scholarship program.
Addressing a press conference announcing the launch of the fair, Mr. Lagutin Sergey Alekseevich, Consul, Consu late General of the Russian Federation in Chennai, South India, said, Higher education in Russia is considered o ne of the best in the world. It is known for its centuries-old history, strong scientific base and high level of train ing. Every year tens of thousands of students are coming to study in Russia to get prestigious, globally recog ni zed and affordable education. Students from India have been admitted to Russian universities for the last 60 years. They enjoy special consideration in Russia, as Indo-Russian relations have always remained strong.
He added: The cost of higher education is relatively cheaper because it is highly subsidised by the Government of the Russian Federation. Governmental support and adaptation programmes for international applicants are constantly evolving. Universities also provide assistance as many have special adaptation programs and support systems for Indian students."
In his comments, Mr. C. Ravi Chandran, Managing Director, Study Abroad, said: Russia is increasingly becoming an attractive destination for international students to receive higher education both on a commercial basis and state scholarship. The country has over 300,000 foreign students from 200 different countries studying in its 600-odd government universities. Over the recent years, the number of Russian higher education institutions in world education rankings has increased considerably."
He pointed out that Russian higher medical educational establishments are recognised worldwide and enjoy high rankings. Russia has produced internationally renowned doctors and scientists. Russia was the first country to come up with a vaccine against COVID19 (Sputnik V). Many famous doctors across the world have had their education in Russia. Almost 75,000 doctors who had their education in Russia are practising in India. All Russian medical universities are recognised by the National Medical Commission of India.
The press conference had the participation also of: Mr. Denis Victorovich Kovrizhnykh, Deputy Dean, Volgograd State Medical University, Mr. Timur Rustemovich Akhmetov, Vice Dean, Foreign Students Education, Kazan St ate Medical University, Ms. Sarapultseva Elena, Professor, Inpe National Research Nuclear University (Mephi), and Ms. Ekaterina Sergeevna Shilova, Chief Specialist for International Students, Immanuel Kant Baltic Federal University.
The list of universities participating in the Education Fair include: Moscow State University of Psychology & Ed ucation, Moscow State University of Civil Engineering (National Research University), Moscow Institute of Phy sics and Technology, Ulyanovsk State Technical University, Ural Federal University, Peter the Great St. Peter sburg Polytechnic University, Astrakhan State University, Orenburg State Medical University, Perm State Med ical University, Mari State University, Volgograd State Medical University, Kazan State Medical University, Im manuel Kant Baltic Federal University, and Moscow State Regional University.
Provisions for Indian Students from Ukraine:
Indian students unable to complete their higher education in medicine and engineering in Ukraine, Donetsk and Lugansk People's Republics, in the recent past, will be allowed to resume their studies in Russia – the Russian government passed a decree in March 2022 in this regard.