Smile Foundation commemorates three months of partnership with Wilde Ganzen Foundation
Smile Foundation commemorates three months of partnership with Wilde Ganzen Foundation
Smile Foundation commemorates three months of partnership with Wilde Ganzen Foundation in running Smile on Wheels mobile medical unit in Varanasi
~Mobile medical unit has benefited over 2,700 people in three months~
New Delhi, June 15, 2022: Smile Foundation is commemorating three months of its partnership with two Dutch non-profit foundations: Wilde Ganzen and Metta Child. Under this partnership, the three organisations have be en running a Smile on Wheels mobile medical unit in and around Varanasi.
Smile Foundation runs over 60 Smile on Wheels mobile healthcare units across the country. In three months of operations, this Smile on Wheels mobile medical unit has benefitted over 2,700 people, conducting more than 75 clinic sessions in the geographies it serves.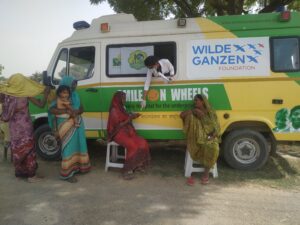 The unit provides primary healthcare services and has sensitized around 501 beneficiaries on health issues, while referring 81 be neficiaries to higher medical facilities for secondary and tertiary medical care.
Smile Foundation's Smile on Wheels vans cover urban slums and rural locations where government healthcare facilities either do not exist or those that exist are unable cater in full to people's primary health care needs.
Each mobile healthcare unit covers a vicinity of up to 25 kilometers from its base and visits two to three villages a day. For secondary and tertiary healthcare, the mobile units refer patients to the nearest health facility.
Apart from providing curative services, teams staffing Smile on Wheels vans also carry out preventive and promotive activities to encourage health-seeking behavior.
The pandemic has been a rude shock to the country's public healthcare infrastructure, putting it under immense pressure. Throughout the past two years when the pandemic raged, interventions by private and public organis ations have helped India strengthen its healthcare infrastructure and the delivery of healthcare services.
"Good healthcare is essential in the fight against poverty. Affordable and accessible care for everyone is the key to progress. Wilde Ganzen believes in its successful cooperation with Smile Foundation and Buddha Smile Sch ool for the Smile on Wheels project. With this project we really make a difference," said Rachida Boukhriss, Project Officer, Wilde Ganzen.
Speaking on the occasion, Mr. Vikram Singh Verma, Executive Director Smile Foundation said, "We are grateful to Wilde Ganzen and Metta Child for their support in extending primary healthcare facilities to the underpriv ileged. Healthcare for all is the tenet that underlines our effort through Smile on Wheels mobile healthcare units."
Smile Foundation's Smile on Wheels initiative aims to reach the unreached with quality healthcare services. The programme has so far provided free healthcare services to more than 1.5 million children and families across the country.
So far, apart from helping underprivileged people through the Smile on Wheels initiative, Smile Foundation has distributed dry ration to 386,210 people across the country. The NGO has conducted country-wide drives to sp read awareness on Covid-19, hand washing, personal hygiene, and vaccination. It has helped with Covid Sample Collection, distributed Covid screening kits among frontline and health workers, mobilized resources to ensure availability and distribution of Oxygen concentrators, RTPCR kits, and home isolation kits.
About Smile Foundation
Smile Foundation is an Indian development organisation directly benefiting over 1.5 million children and families through more than 400 welfare projects on education, healthcare, livelihood, and women empowerment spread across 2,000 villages and slums in 25 states.