WEDDING & BEYOND – a Premium Wedding Expo from the house of Kalyanamalai Matrimony
Over 20,000 Audience To Attend "wedding & Beyond" – Grand Expo In Chennai On July 2 – 3, 2022 As th e world reels back from the pandemic, the Wedding Industry is making a major comeback with the "BIG FAT INDIAN WE DDING
Chennai, 24th June 2022 – Kalyanamalai – the name that spells success in the Matrimonial service industry for over 22 years, is organizing a two-day premium Wedding Expo – "WEDDING & BEYOND", on the 2nd & 3rd July 2022, at the Chennai Trade Centre, in confluence with the biggest and prestigious brands that cater to the wed ding and lifestyle needs of the Indian families with an international experience.
 Two-day expo will be inaugurated on 1st July by Thiru. Ma. Subramanian, Hon'ble Minister for Medical and Fam ily Welfare, Govt of Tamil Nadu and presided by Thiru T.M.Anbarasan, Hon'ble Minister for Micro, Small and Me dium Enterprises(MS&ME) by lighting 'Kuthuvilakku' in presence of "Kalyanamalai" Thiru. T.V. Mohan and Tmt. Meera Nagarajan, M.D. & CEO of Kalyanamalai. The inauguration will be attended by industry leaders and de legates.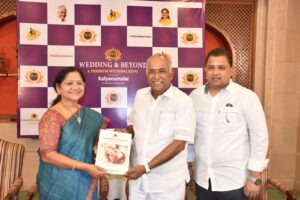 (L to R) Meera Nagarajan, M.D. & CEO of Kalyanamalai; TV Mohan, Chairman, Kalyanamalai More than 20,000 audience are expected to attend this Wedding expo, where visitors can gain information & understanding on we dding prospectus and book during the exp o. The Expo will have over 200 stalls, under 20 categories related to p re-wedding, wedding and post-wedding products and services spread over 6160 sq.m offering visitors a blissful and sophisticated wedding shopping experience.
Visitors can walk into the Chennai Trade Centre on the 2nd and 3rd of July 2022 to visit the stalls, and enjoy the ir wedding shopping. They can also interact with the experts and brand representatives of various companies in the Indian wedding industry and based on the request from exhibitor, they can take photographs.
Speaking on the occasion, "Kalyanamalai" Thiru. T.V. Mohan / Tmt. Meera Nagarajan,M.D. & CEO of Kalyanam alai said, "The Indian wedding market is valued at $50bn, second only to the United States is gaining back its momentum post pandemic. Though there changes in spending patterns, people are back in setting wedding budgets which will help to get a bigger bang. "WEDDING & BEYOND", wedding expo will provide visitors a complete understanding on Wedding prospectus whether it is a budget or big fat wedding".
"Wedding & Beyond" expo will feature Exquisite Wedding Jewellery, Bridal & Groom Wears, Entertainment & Choreography, Event Planners, Decors & Theme, food and beverages, sweets and savoury items, cosmetics, Ph otography & Videography, digital technologies, Makeup Stylists & Artists, Wedding Invitations & Designs, Hon eymoon Packages, Home Appliances & Furniture, Real Estate, Guest Management, Healthcare and Insurance.
Expo Programme schedule
On 2nd July, the First day of the Expo will start with "Vivaha Prarthana", a mass prayer exclusively for the allianc e seekers for a hurdle free wedding along with religious flavour rendered by Guru Mithre Shiva, Rajen dran IAS, Ms Suchitra and Mr Isaikavi Ramanan. During the evening session, a conceptual fashion show, "Brides of South India "will be conducted with celebrity presence including Mrs Poornima Bhagyaraj and Ms Seetha.
On 3rd July, the Second day of the expo begins with "Community Meet" for alliance seekers to meet and interact with people of their own community and facilitate the wedding. Evening session will be entertained with a "Patti mandram" moderated by Orator Thiru. Solomon Pappaiah on the topic "Kudumba nidhi nilaikku migavum valim ai serpadhu : Aangalaa – Pengala". The Valedictory function will be presided over by Dr J Radhakrishnan IAS, Pri ncipal Secretary, Co-operation, Food and Consumer Protection Department, Govt. of Tamil Nadu and will hon our all sponsors.