ASSOCHAM Tamil Nadu State Development Council
"Tamil Nadu – Towards a Trillion Dollar Economy by 2030: Evolving an Enabling Ecosystem"
Tamil Nadu, 31st January 2023: ASSOCHAM Tamil Nadu State Development Council organised a conference on : Tamil Nadu – Towards a Trillion Dollar Economy by 2030: Evolving an Enabling Ecosystem"  to deliberate with policy makers, industry members and other stake holders on developing a favourable business environment and drawing a roadmap towards achieving the vision of 'One Trillion Economy'  in line with the vision of the Hon'ble Chief Minister, Thiru M.K.Stalin. Grant Thornton is the Knowledge Partner for the Program.
Dr. Palanivel Thiaga Rajan, Hon'ble Minster of Finance & Human Resource Management Department, Governme nt of Tamil Nadu was the Inaugural Chief Guest and delivered the Inaugural address at the Conference.  Dr. Aravi ndan Selvaraj, Co.Founder & Executive Director, Kauvery Hospital & Chairman, ASSOCHAM Tamil Nadu State D evelopment Council welcomed the participants and dignitaries for the program.  Prof. V. Padmanand, Partner, Gr ant Thornton Bharat LLP delivered theme address and details of the program. Mr. Arvind Gupta, Chairman, OPG Power Venture Plc., Co Chairman ASSOCHAM Tamil Nadu State Development Council delivered the vote of tha nks.
The speakers from Government included:
Mr. Hans Raj Verma, IAS,

Additional Chief Secretary & Chairman and Managing Director, Tamil Nadu Industrial Investment Corporation (TIIC)

Ms. Pooja Kulkarni, IAS,

 Managing Director & CEO, Tamil Nādu Guidance

Ms. S. Madhumathi, IAS,

 Managing Director, Tamil Nadu SIDCO

Ms. J. Innocent Divya, IAS, 

Managing Director, Tamil Nadu Skill Development Corporation

Mr. Shunchonngam Jatak Chiru, IAS,

Principal Secretary, Department of Social Welfare & Women Empowerment, Government of Tamil Nadu
The other eminent speakers from the industry include:
Mr. Vinod Seshan, IAS,

 Former Project Director, APART World Bank Program, Assam

Mr. Josh Foulger, 

Managing Director, Bharat FIH Ltd- Foxconn Technology Group Company

Dr. D. Narain,

President, Bayer South Asia and Managing Director, Bayer CropScience Ltd

Mr. Lokanathan Nadar, 

Sr. Vice President & National Head – Corporate Affairs, Welspun One Logistics Parks Pvt Ltd

Mr. Masahiro Nishimura, 

Senior Transport Specialist, Asian Development Bank – Manila

Mr. S. Abhaya Kumar

, Chairman, Venkata Narayana Active Ingredients Pvt Ltd & Co Chairman, ASSOCHAM Tamil Nadu State Development Council

Mr. Jai Khurana,

Chief Executive Officer, Southern Ports, Adani Ports & SEZ Ltd. Co Chairman ASSOCHAM Tamil Nadu State Development Council

Dr. K S Ravichandran,

Chair, Corporate Law – ASSOCHAM Southern Regional Council &


Managing Partner, KSR & Co Company Secretaries LLP

Ms. Shobana Kumar, 

Regional Head, Agricultural and Processed Food Products Export Development Authority (APEDA) APEDA

Mr. Suresh,

Vice president, HDFC Bank

Mr. Pinkal Joshi, Head

– OEMs relations & Fleet Business, Tata Power

Mr. Somy Thomas,

Managing Director, Cushman & Wakefield

Mr. Habib Hussain

,

 Regional Chairman, FEIO (Southern Region) & A V Thomas Leather & Allied Products

Dr. Paul Appaswamy, 

Honorary Professor, Madras School of Economics, Chennai

Dr. E. J. James,

 Pro Vice Chancellor (Research & Consultancy), Karunya Institute of Technology and Sciences

Mr. Raja Shanmugam

, Former President, Tirupur Exporters Association

Mr. R. Sarvanakumar, 

General Manager, NSIC

Mr. K Mariappan, 

President-TANSTIA & Independent Director, TANSIDCO & TNSDC  

Mr. Maganbhai Antara

, Chairman, Rajkot Engineering Cluster
During the conference there were Panel Discussions on the following topics :.
Enabling Policy Environment

Infrastructure and Logistics – A Key Enabler in the Journey Towards a Trillion Dollar Economy

Creating Enabling Ecosystem for Robust Credit Access and Delivery; Green Finance

Skilling – Shaping the Trillion Dollar workforce

Optimising Procurement, and Inputs

Enabling market and demand conditions and connectivity

Emerging Sectors (Electronics, Semi-Conductors, Biotechnology, Defence); Technology, Innovation Ecosystem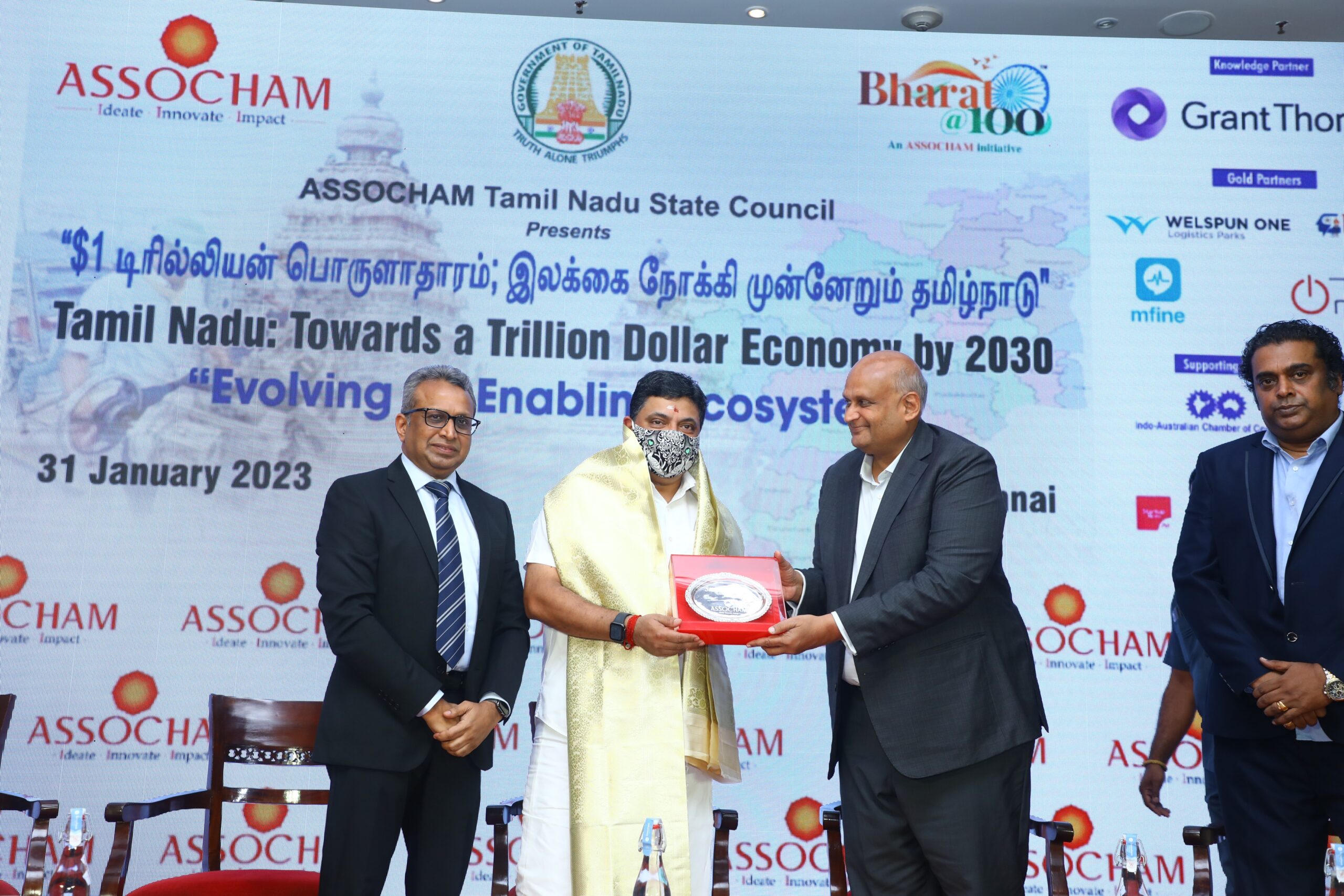 About ASSOCHAM:  
ASSOCHAM initiated its endeavour of value creation for Indian industry in 1920. It was established by promoter Chambers, representing all regions of India. Having in its fold over 400 Chambers and Trade Associations, and se rving over 4.5 lakh members across India.ASSOCHAM has emerged as the fountainhead of Knowledge for Indian industry, which is all set to redefine the dynamics of growth and development in the Knowledge Based Economy. More information available on www.assocham.org