Dr Soosan Jacob of Dr Agarwal's Eye Hospital featured in The Ophthalmologist Power List 2022
The Power List includes the top 100 most influential people in the world of ophthalmology.
Chennai, July 01, 2022: City Ophthalmologist, Dr Soosan Jacob, Director and Chief, Refractive and Cornea Foundation, and Senior Consultant, Cataract and Glaucoma Services at Dr. Agarwal's Group of Eye Hospitals, Chennai, was featured among the top 100 most influential ophthalmologists in the world for her vital contr ibu tions in the field of ophthalmology. After nominations were received and the final list was elected by an indep endent panel of judges, Dr Soosan Jacob was selected for The Ophthalmologist Power List 2022.
'The Ophthalmologist' is a premier international publication for professionals in all areas of ophthalmic clinical practice and it releases the Power List every year to acknowledge and recognize those bringing about change in the field of ophthalmology and beyond. Dr Jacob was also selected to the list of top 100 women ophthalmologis ts of the world in last year's Power List 2021.
On her inclusion in the prestigious power list, Dr Soosan Jacob, Director and Chief, Refractive and Cornea Foun dation, and Senior Consultant, Cataract and Glaucoma Services said, "I am truly honored to be included in The Ophthalmologist Power list 2022, which seeks to showcase the powerful impact of leading professionals on op hthalmic clinical practice, research, education, and industry. I congratulate The Ophthalmologist for recognizing the amazing leadership and skills, doctors bring to the field of ophthalmology. I hope these recognitions will in spire the young ophthalmologists to work on innovations and novel research areas."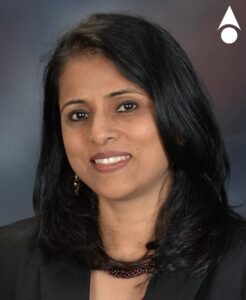 Dr. Soosan Jacob has over 22 years of experience, specializing in refrac tive surgery, cutting edge keratoconus m anagement, advanced corneal transplantations, complex anterior segment reconstructions, glaucoma and com plex cataracts. She is well known and respected for her multiple innovations in Ophthalmology in the fields of cornea, cataract, glaucoma and keratoconus.
Dr Soosan Jacob has been the recipient of several prestigious intern atio nal awards including International So ciety of Refractive Surgery's Krit zinger Memorial Award; Connecticut Society of Eye Physicians' Innovat or's Award, The Waring Medal, European Society of Cataract and Refra ctive Surgery's John Henahan Award for Young Ophthalmologist, Amer ican Academy of Ophthalmology's International Ophthalmologist Educa tion Award and many international Oration awards.
She is a noted speaker and author – she has authored more than 100 peer reviewed publications, is the editor for 17 ophthalmology textbooks, is on the editorial board of prestigious international journals and on the executive committee of many international ophthalmological organizations. She conducts courses and delivers lectures in numerous national and international conferences and has been invited to teach her techniques at many interna tional institutes such as Bascom Palmer Eye Institute, USA, Jules Gonin Eye Institute, Switzerland etc. Her surgi cal teaching YouTube channel has more than 11,500 subscribers.