Launching NAVIN's Starwood Towers 3.0, NAVIN's pilots a noteworthy initiative with NAVIN's Kitchen Garden
 ~A one-of-a-kind initiative by the company encouraging people in the neighborhood community to self-produce high-quality organic food at home~
 Chennai, 9th September,2022 : Helming the notion to inculcate urban farming in the city, NAVIN's, Chennai's mo st trusted and respected developers, today unveiled a week long green initiative- Navin's Kitchen Garden. Distr ibuting over 2000 fresh and organic vegetable plants across the Medavakkam community, starting September 9th, Friday, this unique vehicle driven initiative falls in line with the launch of Navin's Starwood Towers 3.0, a w orld class residential community in Chennai.
Presenting a wide variety of plants including tomato, coriander, curry leaves, greens, mint, tulsi, beans, eggplan ts, among several others, the distinctive enterprise seeks to fortify sustainability, and increase people's engage ment with the environment, besides reducing carbon emissions.  Further, providing city dwellers an opportunity to cultivate fresh and healthier produce, NAVIN's kitchen garden is a small step towards piloting increased food production in the economy, besides enhancing household nutrition and food security.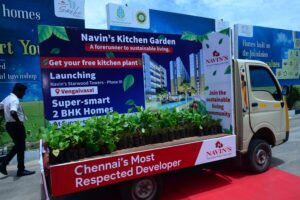 Commenting on the occasion, Dr R Kumar, Founder, Chairman and Managing Director of Navin's said, "Having always strived to give ba ck to the community and the environment, we at NAVIN's have been conscious towards taking decisions in sustainable home building. NAV IN's Kitchen Garden is yet another initiative to promote wellness in the right sense, coveting our residents to have great homes and great food at the same time, in harmony with the environment. Be ing the IGBC Gr een Champions and steering the many firsts of green living in the realty sector from setting up EV stations, recycling units ,  solar panels, limi ting use of natural resources in construction strategies,  among many others, NAVI N's has always harbored eco-friendly lifestyles. With this initiative, we endeavor to keep the same momentum going for ward, along with creating a green and safe haven for our future generations."
Well known for developing best-in class homes while laying keen attention to build quality and green way of life, NAVIN's Starwood Towers 3.0 is a significant project in the same direction, with the inte nt of providing an enr ich ing homebuying experience for customers. Sprawled across 9.85 acres, housing 588 units of 2BHK apartm ents, this premium property is nestled in the bustling neighborhood of Medavakkam, allows for better conn ec tivity an d social infrastructure for the residents. Enabled with smart technology, the luxury project offers un pa ralleled security, privacy and serenity at an irresistible price of just Rs 56Lakhs (all inclusive) as a launch offer, valid for just three days starting September 9th.