PMAY – Empowering India Awards 2022, Recognizes Navin's Starwood Towers 2.O As The Best Affordable EW S/LIG Housing Project of Tamil Nadu
~The award was bestowed to Navin's Housing and properties for the second time appreciating its efforts to make affo rdable housing a reality for the people of Tamil Nadu~
Chennai, 18th July 2022: Certifying its commitment towards developing best in class homes in the affordable ca tegory, PMAY-Empowering India Awards 2022 accredited Navin's Starwood Towers 2.O – Housing project of Na vin's Housing and properties as "The Best Affordable EWS/LIG Housing Project" in Tamil Nadu, for the year 2022 . Facilitated at New Delhi, the award was bestowed to Navin's Housing and properties by Hon'ble Minister for Housing and Urban Affairs of India, Shri Kaushal Kishore, for the second time recognizing its efforts to make housing a reality for the common man of Tamil Nadu.
The award was conferred post severe scrutinization by the jury members – Mr Udai Pratap Sing Former Vice-Ch airman Delhi Development Authority, Mr Abhai Sinha Former Director General CPWD, Mr. Hitesh Vaidya Direc tor National Institute of Urban Affairs, Dr Mangesh G. Korgaonker Director General NICMAR, Mr. M Nagaraj Dir ector (Corporate Planning) HUDCO, Mr M.V Satish Whole-time Director&Senior EVP Larsen & Toubro, Dr Shail esh Kr. Agrawal Executive Director BMTPC, Mr. Arun Sahai COO AHLUWALIA CONTRACTS (INDIA) LTD and Mr V.T.C Sekhar Rao Dean L&T Institute of Project Management.
Commenting on occasion Dr R Kumar, Chairman and Managing Directors of Navin's Housing said, "Navin's hou sing is well known for developing best-in class homes while laying keen attention to the quality of build and lifestyle. Pop ular as the customer first brand, we at Navin's understand the struggle of every aspiring homebuyer who invest their life time savings to buy a dream house. Thereby, we always strive to bring in abundance of innovative projects that offers our buyers the leap of luxury with access to all major facilities at an affordable price point".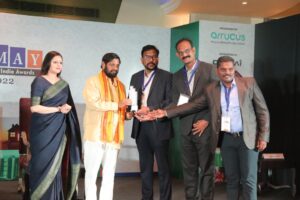 " Catering to the needs of every single homebuyer, Starwood Towe rs 2.O is a one of a kind property from Navin's loc ated in Chennai.  We are delighted that our project Starwood Towers 2.O has been awarded as The Best Affordable EW S/LIG Housing Project by the PMAY-Empo wering India Awards. This award recognizes our continued comm itm ent to cre ating quality homes at cost effective prices for the bett erm ent of the common man. Being the most ethical and respected real estate brands of Tamil Nadu, we believe that this honour will further make Navin's the most preferred residential brand", added Dr Kumar.
Located at Medavakkam, Chennai, Navin's Starwood Towers 2.O is one-of-a-kind property that is sprawled ac ross 9.58 acres of housing a total of 412 units. The property is constructed in a stilt + 14 floors structure, with a balanced mix of 2 , efficient 2 and 3 BHK modern apartments ranging from 591 Sq.ft to 1484 Sq.ft that starts from just Rs. 38lakhs. Powered with technological intelligence, the project enables homebuyers experience the convenience of high tech super smart homes, where, every unit comprises of premium features like Biometric and PIN controlled door access, Smart phone door lock, light & fan control, etc. Besides this the project houses over 100+ amenities and a plush club house spread across 18,500 sq.ft
The project is strategically situated at the midpoint of Velachery close to tambaram , OMR & sholingnalur , pro viding  easy access to prime locations in the city. It  is further located in close proximity to major essentials like reputed educational institutions, well equipped multi-speciality hospitals, and many entertainment facilities like malls, theatres and restaurants.